On the occasion of the Birthday of His Majesty King Bhumibol Adulyadej the Great, the National Day of the Kingdom of Thailand, and Thailand's Father's Day, Việt Nam News presents an article written by Tanee Sangrat, Ambassador of Thailand to Việt Nam.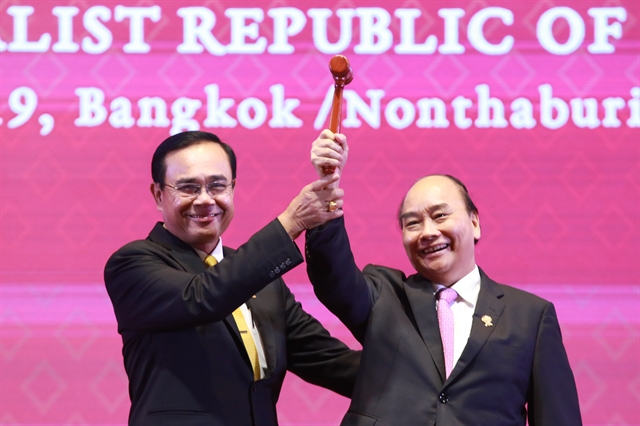 On December 5 every year, Thai people throughout the Kingdom and around the world come together to celebrate auspicious occasions. It is a special day for Thai people to commemorate our beloved late King's lifelong work for his people. The international community also joins in the celebration of His Majesty the late King's remarkable achievements in sustainable development, as the Sufficiency Economy Philosophy and the World Soil Day have been of significant benefit for Thailand and people around the world. His Majesty the late King's legacies and memories will always remain in the hearts of Thai people.
At present, under the reign of His Majesty King Maha Vajiralongkorn Phra Vajiraklaochaoyuhua, Thai people remain most attached to the monarchy, the symbol of unity, and the heart and soul of our country.
As we celebrate these special occasions, we also felicitate the cordial relations between Thailand and Việt Nam. Long before our two countries established diplomatic relations 43 years ago, we enjoyed friendly ties spanning many generations. The late President Hồ Chí Minh lived and carried out revolutionary activities in Thailand from 1928-1929. His footprints are visible across the country, from Bangkok to northern and northeastern provinces of Thailand. Today, Thai and Vietnamese people have settled in many parts of our two countries. The flourishing Thai-Vietnamese community with remarkable economic and educational achievements in Thailand is a strong foundation for friendship between Thailand and Việt Nam.
This year also marks a milestone for the close ties between our two countries. In January, during the third Meeting of the Joint Commission on Bilateral Co-operation co-chaired by our foreign ministers, Thailand and Việt Nam agreed to intensify bilateral relations to a Strengthened Strategic Partnership. Over the past year, high-ranking visits – ranging from our prime ministers, deputy prime ministers and national assembly leaders, to ports of call by both our navys, friendship associations and business people – have continued to enhance our relations.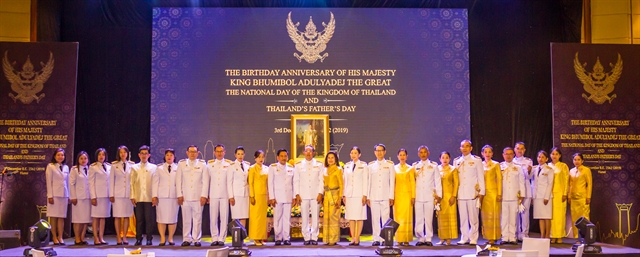 Early next year, we will organise the fourth Joint Cabinet Retreat, the most important bilateral mechanism between our two governments. The meeting will set out the direction for the future of bilateral relations in all areas.
Looking forward, I am confident that the Strengthened Strategic Partnership between Thailand and Việt Nam will become even closer, a true partnership that we can rely on in good and in challenging times.
Our economic relations continue to grow from strength to strength. Thailand is Việt Nam's largest trade partner in ASEAN, and the fifth largest in the world. Our two-way trade totalled US$17.5 billion last year. Our trade offices and the Embassy have been busy organising activities including the Top Thai Brands, Thai Festival and Mini Thailand Weeks throughout the year. We hope to achieve the $20 billion trade target next year. And our two PMs have already set a target of $30 billion in 2025. 
In terms of investment, Thailand is the ninth largest foreign investor in Việt Nam with accumulated value of $10.8 billion, and more than 500 projects across the country. If we combine that with the number of M&As and joint ventures, Thai investment in Việt Nam could reach $20 billion.
Our Board of Investment (BOI) Office and the Embassy have organised many investment delegations. Việt Nam is the most important base for Thai investment abroad, including being the location for the largest solar power project in ASEAN in Tây Ninh Province. All Thai companies in Việt Nam are committed to Việt Nam's future and development, as well as to corporate social responsibility (CSR) for communities in Việt Nam.
We also encourage two-way trade and investment. It is a pleasure to see Thai retailers and traders promoting Vietnamese products in Thailand and the region, and to see companies begin to invest in Thailand.
Just last month, Thai Vietjet Air opened new domestic routes to Udon Thani from Bangkok and Chiang Rai, and Việt Nam Airlines between HCM City and Phuket, marking new milestones in our connectivity and economic co-operation.
Thai Offices, or Team Thailand, in Việt Nam also actively engage with our Vietnamese partners and friends. Throughout this year, many activities have been organised in Việt Nam, including the first Royal Kathina* in northern Việt Nam, a community development project based on the Sufficiency Economy Philosophy, a tree planting activity in honour of His Majesty King Bhumibol Adulyadej The Great, flood prevention and school development in Thái Nguyên Province, and a school renovation project in Hòa Binh Province.
Team Thailand and I wish to express our gratitude to all of our Việt Namese partners and friends in facilitating all of our activities this year.
Thailand's partnership with Việt Nam has also been highly valued within the ASEAN framework. As Thailand's ASEAN Chairmanship has come to an end, on behalf of the Royal Thai Government, I wish to take this opportunity to express our sincere appreciation for Việt Nam for its unwavering support for our chairmanship.
The conclusion of the Regional Comprehensive Economic Partnership (RCEP) is ready to be signed next year here in Việt Nam, while the launch and upgrade of several ASEAN Centres in Thailand, the adoption of the ASEAN Outlook on the Indo-Pacific, and other achievements are true testaments of our joint efforts and support from our Vietnamese friends and ASEAN members and partners.
As Prime Minister Prayut Chan-o-cha declared at the 35th ASEAN Summit, I truly believe that Việt Nam will assume the ASEAN Chairmanship "with pride and realise ASEAN's dream of promoting partnership and maintaining peace, freedom, security and prosperity in ASEAN now and in the future".
Việt Nam will also have Thailand's full support during its membership of the United Nations Security Council over the next two years. VNS
---
*Royal Kathina is a Theravadha Buddhist tradition where the abbot of a temple is presented with robes and various items, and the temple receives financial contributions. This year H.M. King Rama X of Thailand granted Royal Kathina robes and contributions to Hoằng Ân Pagoda, a Mahayana temple in northern Việt Nam, for the first time. Hoằng Ân Pagoda is home to the ashes of Bin Luong, who worked with the late President Hồ Chí Minh for the independence of Việt Nam.