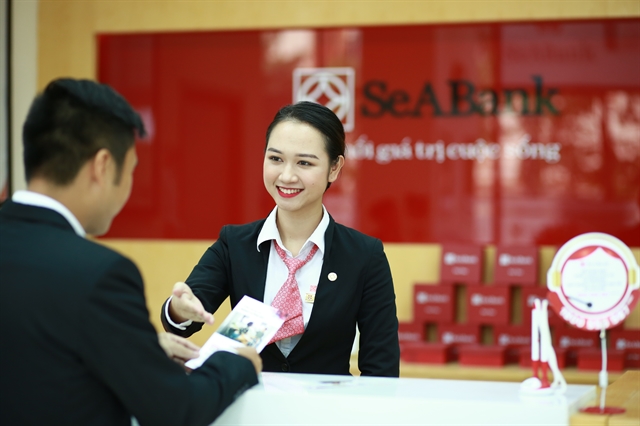 HÀ NỘI — According to the State Bank of Vietnam, the banking sector's business performance in the first nine months of 2019 has been continuously improved with good results in terms of profits and credit growth. Besides such positive indicators, many banks also made a strong impression with significant events.
There were many highlights in the performance picture of the credit institution system. Credit continued growing at 8.64 per cent, capital mobilisation increased by 9.03 per cent, while the exchange rate and foreign exchange market were kept stable.
Remarkably, non-cash payment activities grew dramatically, as financial transactions via mobile phones increased exponentially with 202 million transactions worth VNĐ2.09 quadrillion (US$88.6 billion). A series of banks were recognised as meeting Basel II standards.
Contributing to the whole sector's achievements, Southeast Asia Commercial Joint Stock Bank (SeABank) has made efforts to complete the database, promote risk management, improve financial capacity, and diversify products and services. One of the services welcomed by customers is free money transfers via electronic banking (SeANet, SeAMobile). All of these developments aimed at better serving customers' needs, offering them modern and convenient financial products and services.
By the end of the third quarter of 2019, SeABank also made a breakthrough with pre-tax profit of VNĐ683 billion, up 65 per cent over the same period last year. Total bank assets reached VNĐ152.56 trillion. Total outstanding loans reached VNĐ93.32 trillion while total capital mobilisation was VNĐ90.75 trillion. Non-performing loan ratio was 1.36 per cent. Net interest income reached VNĐ2.25 trillion, an increase of 27.3 per cent year on year.
Especially, the bank's net income from service activities topped VNĐ286 billion, triple the figure of the same period last year. In addition, SeABank also completed raising its chartered capital to VNĐ9.37 trillion and has become one of the 16 banks with the largest chartered capital in Việt Nam.
These impressive figures have helped SeABank be highly appreciated by investors, partners, customers and gain a certain position in the sector's rankings. This is best evidenced by Moody's – one of the three most prestigious credit rating organisations in the world – has given SeABank a B1 long-term credit rating, which reflects SeABank's good financial capacity and development potentials.
After the announcement from Moody's, in October 2019, SeABank was approved by the State Bank of Vietnam to apply Basel II standards ahead of the deadline set for banks under Circular 41/2016/TT-NHNN. The bank was also voted by The Asian Banker in the Top 500 Asia and Pacific's largest and strongest banks and was honoured by Vietnam Report as 70th among the 500 most profitable private enterprises in Việt Nam in 2019.
Along with financial and banking operations, SeABank also features a series of activities for the community, one of which was the 'SeABank Run For The Future 2019' competition. The programme helped raise funds, nurturing the dream for poor high school students, with 41 scholarships worth VNĐ3.2 billion offered. Another campaign is 'Let's Go Green With SeABank' to call for the bank's employees to limit waste discharge.
Sharing her thoughts about these impressive achievements, Ms. Lê Thu Thủy, SeABank's General Director, said: "SeABank has impressive business results, and we have also been recognised by the State management agency and prestigious international organisations for our stable performance and contributions to the development of the country, and above all our relentless efforts to best serve our customers.
"These are very significant milestones for SeABank, reflecting its good financial capacity, effective operations and strong reputation, and contributing to enhancing its position and increasing SeABank's competitiveness in the market, especially in international financial markets."
"When considering options of banking services, customers can feel completely secure when deciding to use the products and services of a bank with good financial capacity, healthy and stable operation authenticated by the State Bank of Vietnam, Moody's and other prestigious organisations," Thủy said.
SeABank has created a good journey for customers to experience when they decide to do transactions at the bank, she added.
SeABank's performance is one of the highlights of the banking industry, along with many other banks that are actively providing customers with the best products and services. With the current growth rate, it is absolutely possible to expect a "big win" in the financial year of 2019 of the banking industry. — VNS